Industrial lamps from us here and there – spring 2022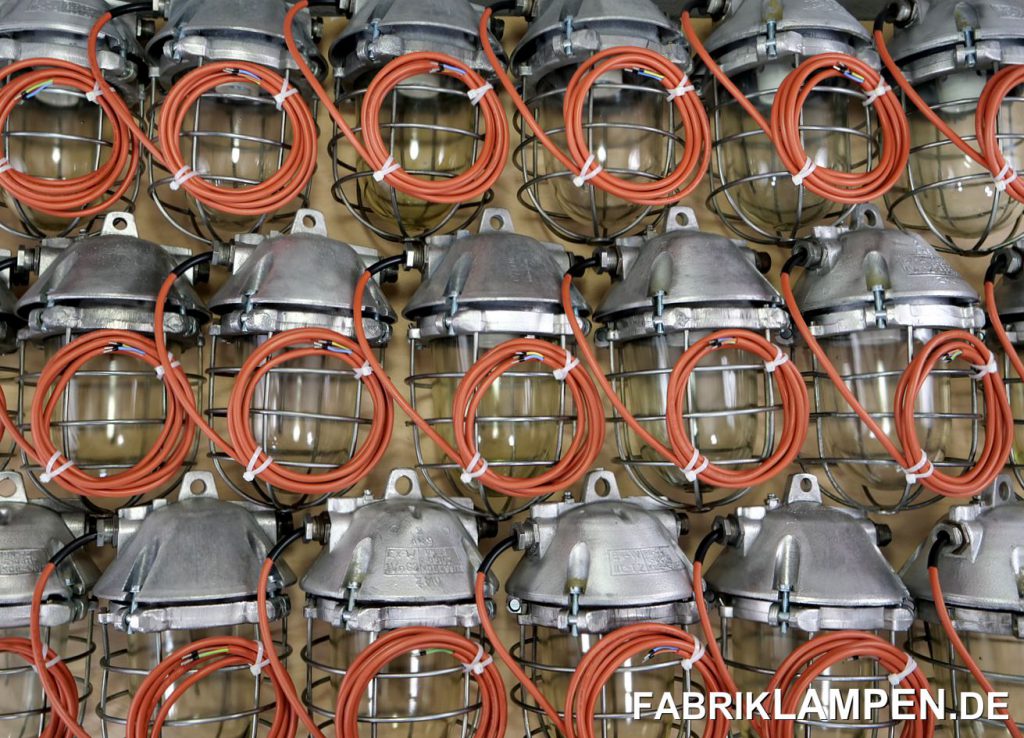 This year we are also working hard, some items of old industrial lamps we photograph before shipment, some pictures are sent by customers or made of us on site. Here are some small bunker lamps. The old refurbished factory lamps are popular because of their practical size. Above is a picture, there we shipped several pieces for a regular customer, these lamps come into use in stores. Some come into restaurants…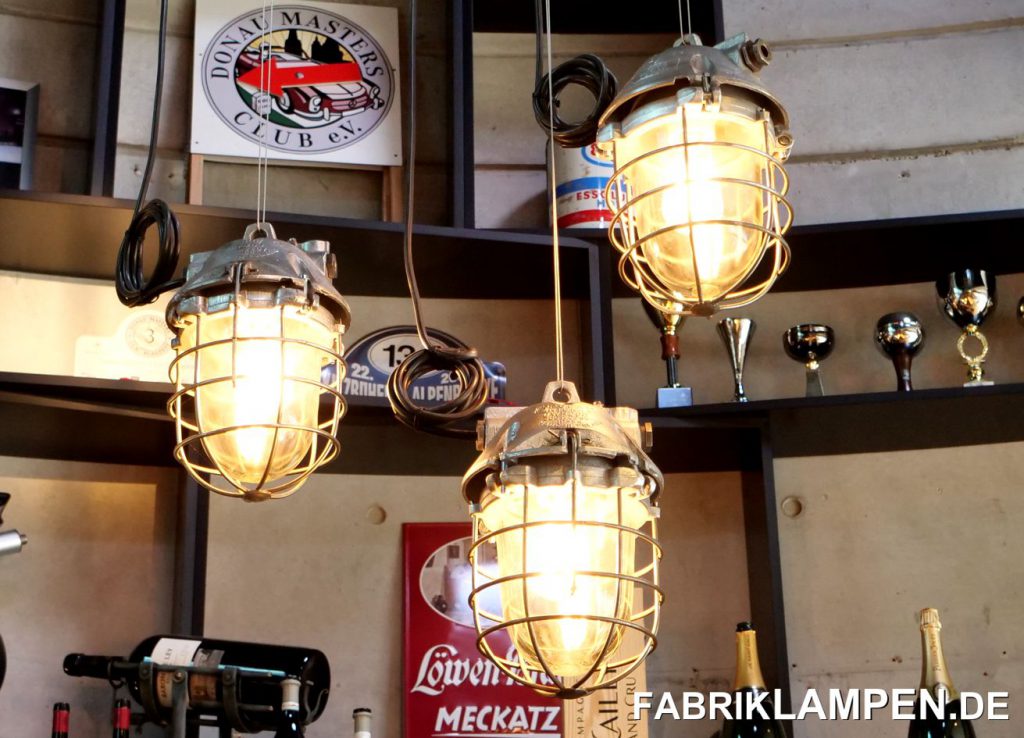 … and one you can even see in the program "Die Retourenjäger". From time to time our lamps come among others also in TV shows and productions (such as Babylon Berlin). This year I am looking forward to the premiere of an internationelan production, where we delivered a lot of old industrial lamps to London.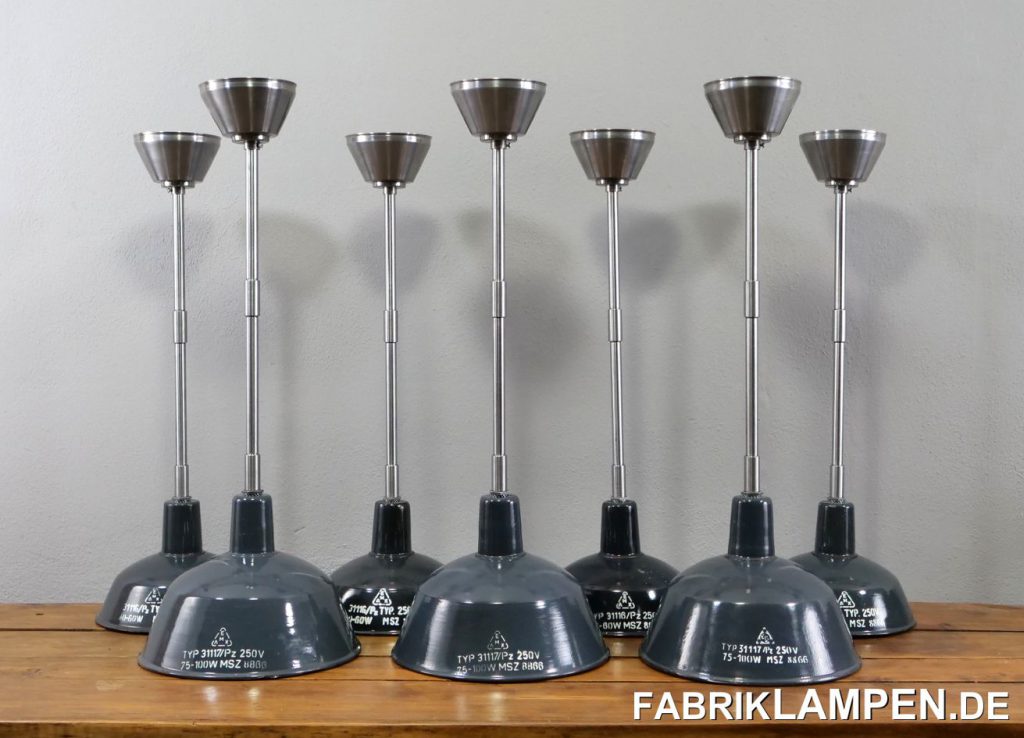 We are able to assemble and mount the old lamps absolutely according to the customers' requirements. Here above we have old enamel lamps, which got a new steel tube suspension. The old EMAX lamps with the inscription exist in several dimensions, here we see 4 of the smallest (diameter 25 cm) and three of the next size (31 cm).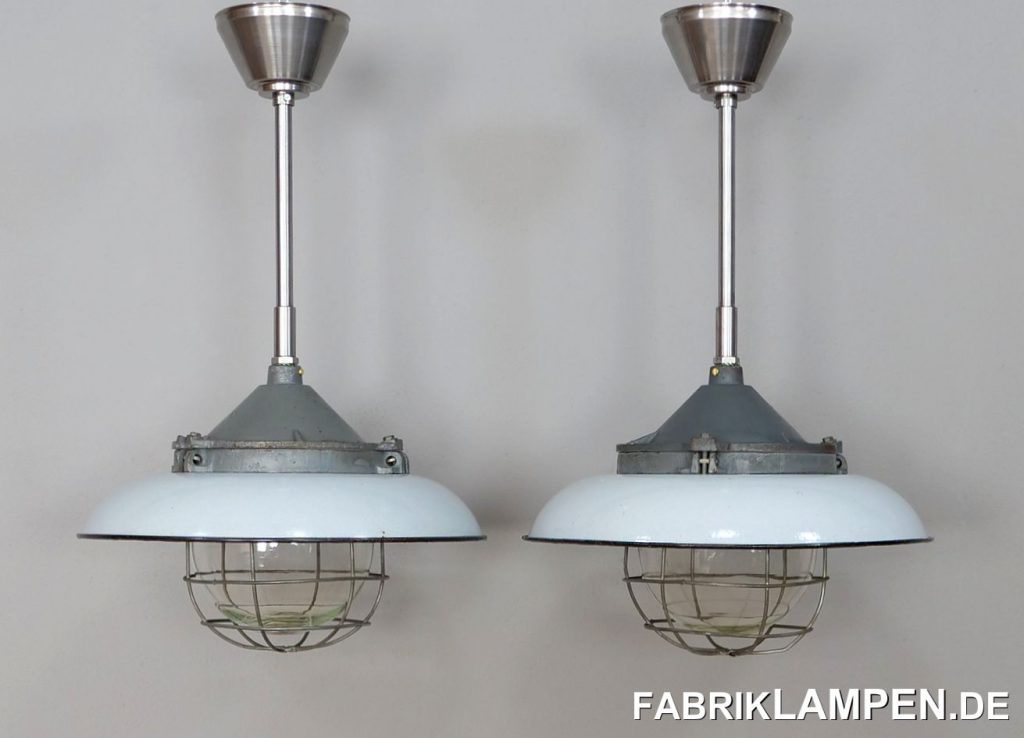 Also with steel tube suspension, the customer from Switzerland wanted these two old factory lamps. These are classic bunker lamps with light gray enamel shade, cast iron housing and protective glass & grid. The old lamps are restored and ready for the next decades.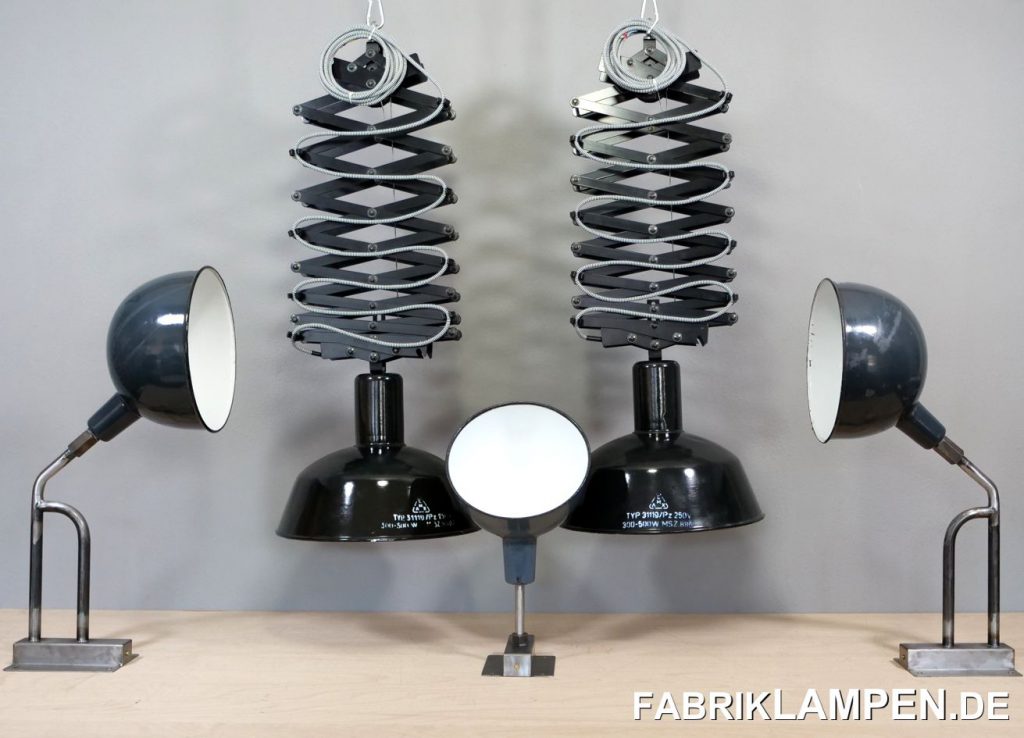 Again some old factory lamps, which are assembled on customer request. This time it is a construction project in the Burgenland, where for the living room were needed two rather large scissor lamps and for the wall individually made wall lamps. The wall arms have become equipped with rather rare asymmetrical enamel lamps.
Some black factory lamps for a smaller project. Here we have made up the lamps with a solid industrial grade cable.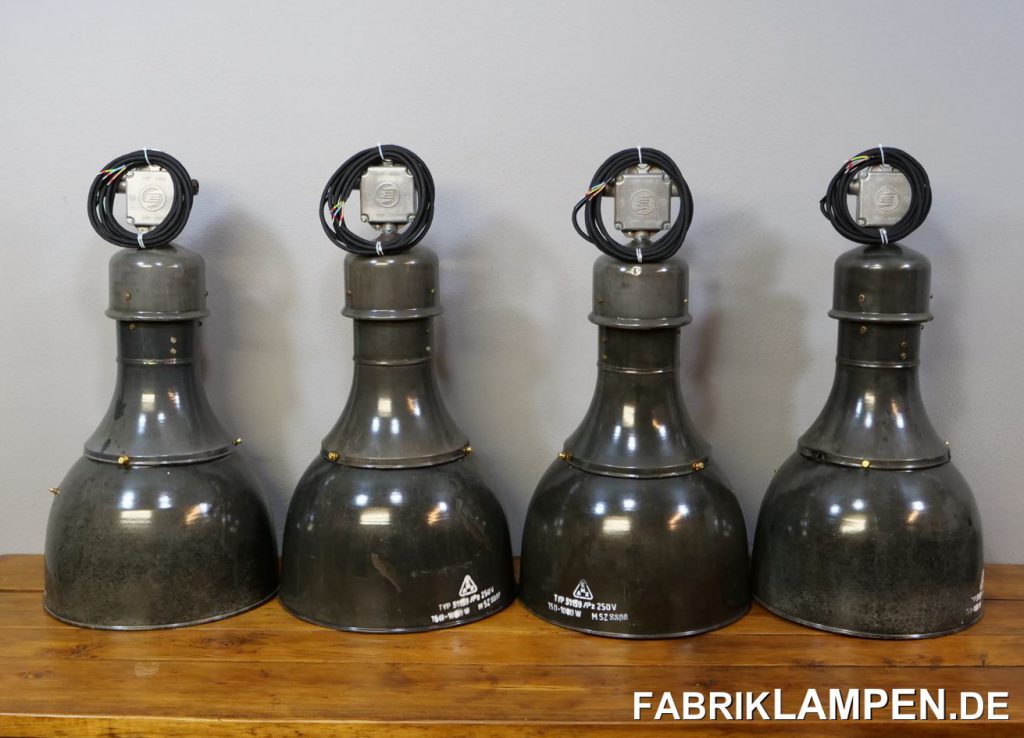 The four large enamel lamps used to be black, over the decades the color has faded a bit and become rather anthracite, with a lot of patina. The lamps went to a workshop in the beautiful Bavaria, where stringed instruments are made and restored.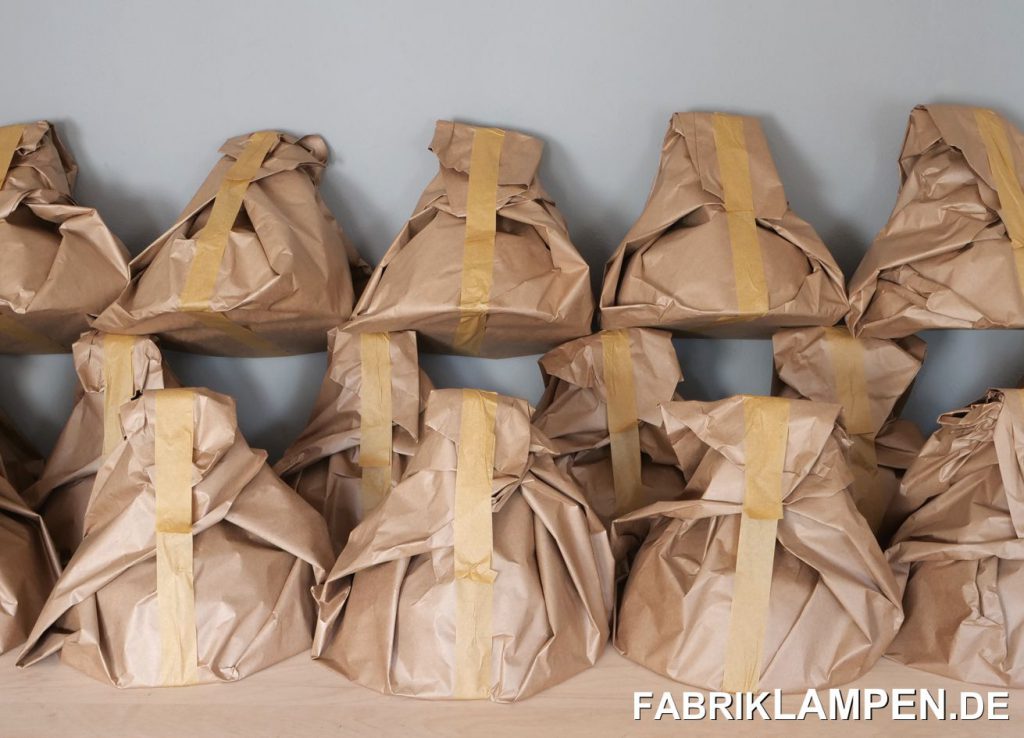 Old industrial lamps are usually large, heavy and at the same time very fragile. We take care of the safe packing. For the very large ones, the use of plastic cannot be avoided, but the smaller factory lamps (here lamps with a diameter of 41 cm) we can ship completely in paper and without packing bands made of plastic etc.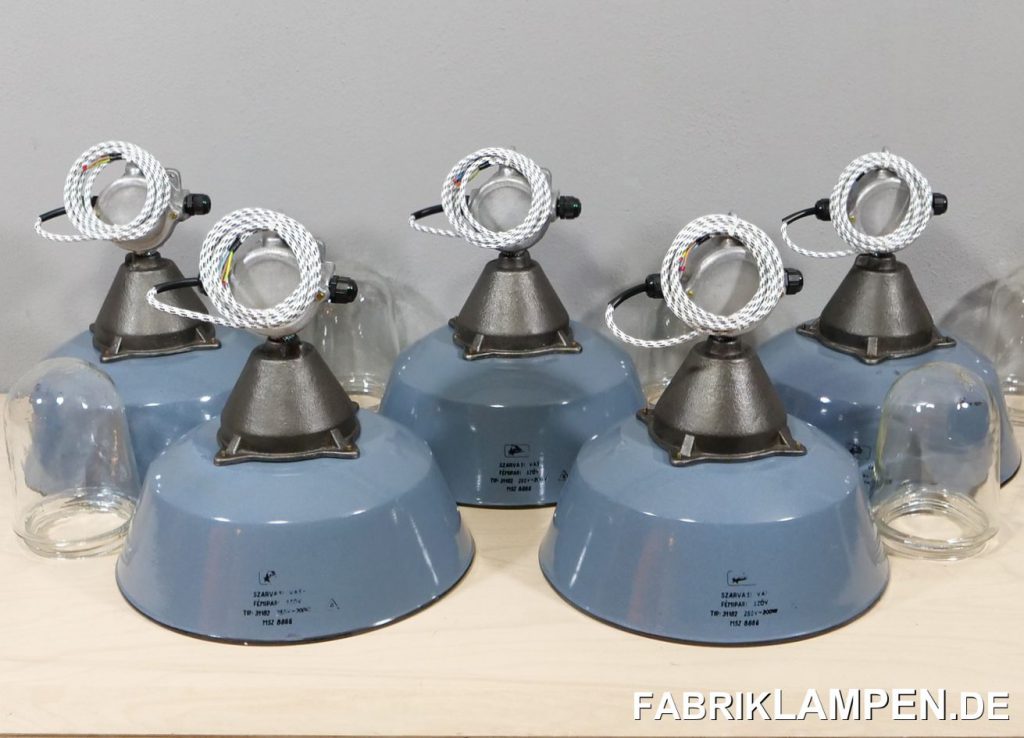 And finally, a batch of old industrial lamps, which are equipped with a protective glass. The junction boxes allow the various circuits of the lamps.
Published on 16.03.2022