Factory lamps from old stock: myth or reality?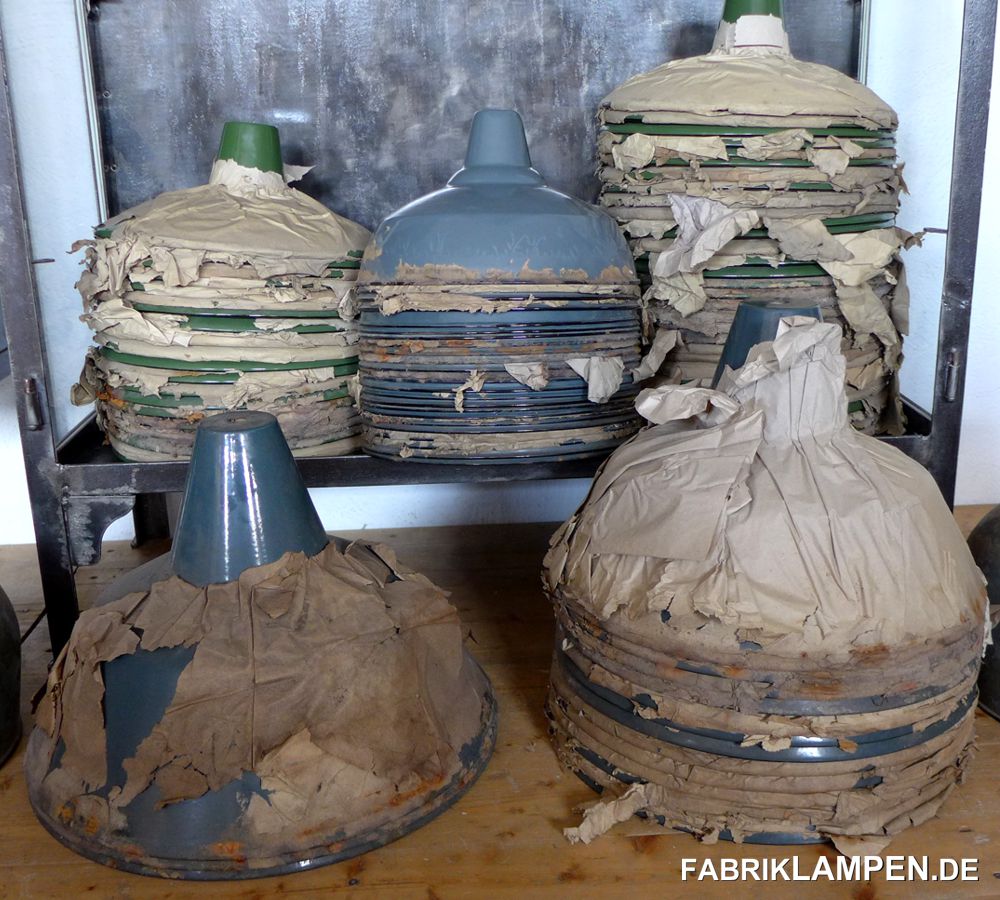 We recently bought old enamel lamps from a stock. Sometimes this happens, but it is relatively rare. I also didn't want to believe it when a seller wrote to me recently. However, I gave it a chance and in fact: the lamps – including a lot of shades from Louis Poulsen – were really old, original lamps, still packed in old paper. The seller's grandfather stowed them in the attic decades ago and the lamps have spent the last half-century in a sleeping beauty slumber. I of course bought the shades immediately. This is a really old post. As a rule, lamps are still found as old stocks from the 1970s and 1980s. Although these have also become rarer, the matter is not impossible.
There are many factory lamps on the market that are sold as old: are they really old?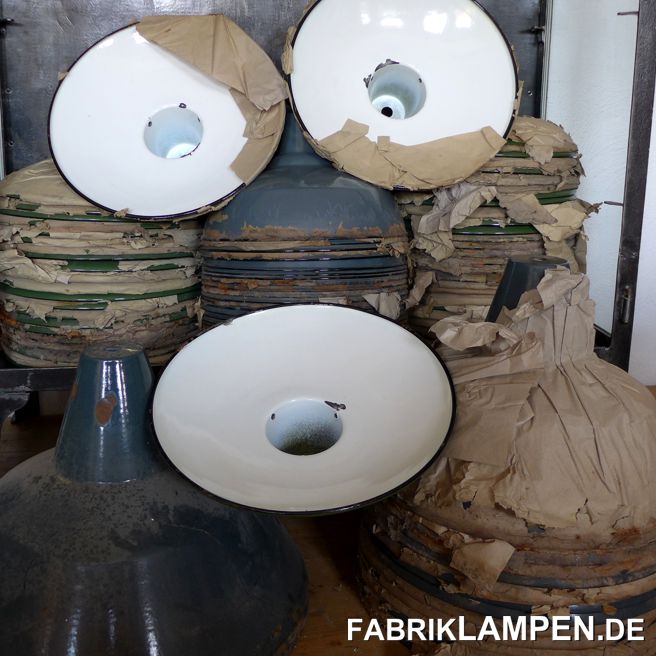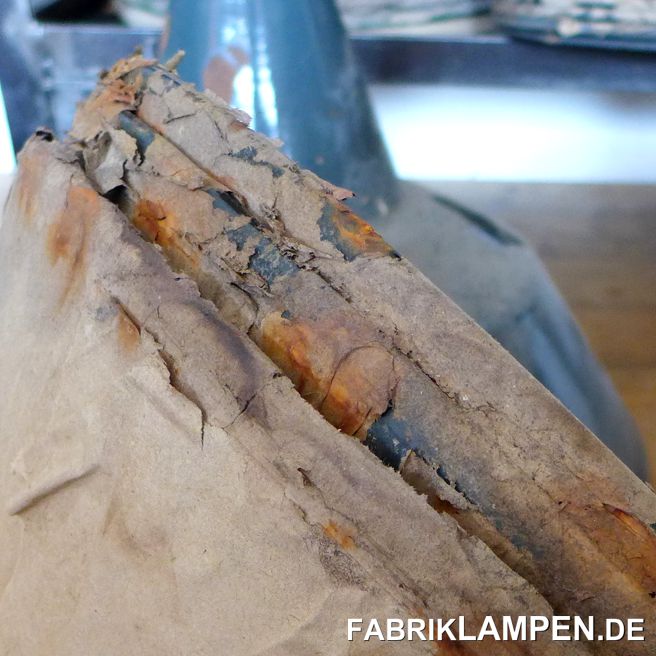 Enamel shades from old stocks show almost always signs of age: small spots with rust, flaking etc., as can be seen in the pictures here. The enamel is fresh, but not like the fake lamps. If lamps have been sold in impeccable condition in large numbers for many years (typically on online marketplaces, but sometimes also in individual web shops), especially in forms that are only available on these pages, usually in several colors, there is reason to doubt.
Relatively simple shapes, which otherwise never appear as used lamps, in colors that never existed for historical industrial lamps (yellow, pink, ivory, etc. pp.) are usually also new. I once saw in a web shop with industrial lamps, where the seller (or manufacturer) chipped off the enamel with a hammer, making the lamps look used, and thus sold the new lamps as "old". The whole thing didn't look authentic, to say the least.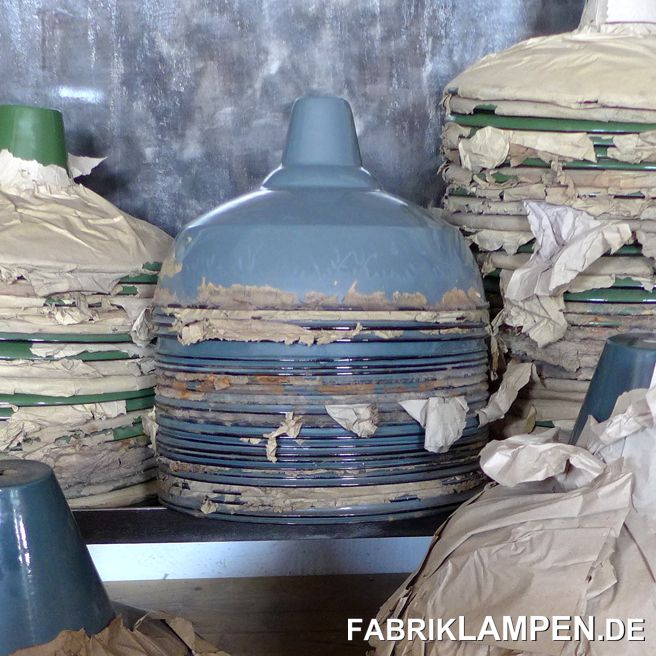 Perfect fakes?
Many lamps are faked perfectly. A typical example of this are some Eastern European lamps. These are newly produced in a wide variety of colors. Everything is perfect, even the manufacturer's brand in the enamel. With junction boxes and all the trimmings, the lamps are still produced today and sold well as old.
The old EKA / EMAX lamps are also counterfeited: these are easy to identify in terms of quality and the manufacturer's brand is usually missing. By the way: scissor lamps are also produced here (both for the ceiling and for the wall) and sold as old.
In addition to Eastern Europe, the lamps, which are then sold as old, are usually manufactured in Asia.
The list could be written further, the conclusion is: keep your eyes open if you are looking for old lamps!
By the way: even with old industrial furniture – there is slowly more fake (sold as old) than original…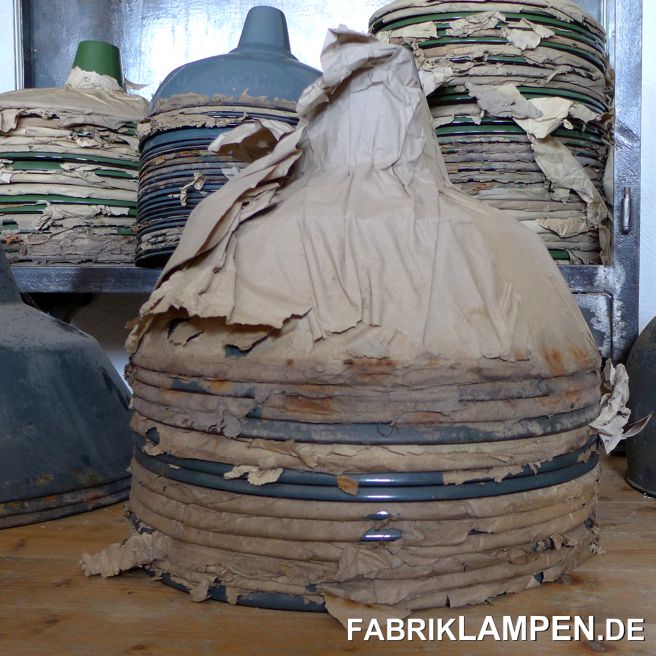 Publiziert am 03.07.2020